CHAOS COMMUNICATION CONGRESS REVIEW
For the second year we joined forces with Reclaim Club Culture (RCC) at the congress which was again an exceptional experience!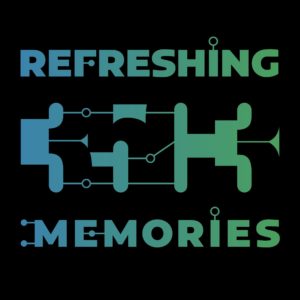 For those who don't know: This Hacker Meeting is organized by the Chaos Computer Club which was founded in 1981. The annual congress was launched in 1984. In the past 8 years the Hacker Meeting has grown rapidly to host in 2018 about 17.000 attendees in the Leipzig congress centre.
At the congress very diverse people come together and work collectively. The reason why it is constantly growing is the fact that computers and the internet become more and more omnipresent, but also because there is a growing conscience that change is only possible if we bring our knowledge together. Technology can only be improved if it is analyzed in its social and political context. The driving force at the congress is the believe that sharing knowledge is crucial today and that the purpose of technologies like the internet can bring people closer together as Daniel Domscheit-Berg (Chaos macht Schule) explains: "We need to restructure the internet and how the world is organized. If we ask for less we can't accomplish anything". Also Nexus (Falk Garbsch, spokesperson ccc) stresses that they want to reinvent the internet: "We need to discuss what the internet of the future should be like and how it can remain a free and open space where society can evolve. How it can become an added value for society – a space of meaning with benefits for everybody."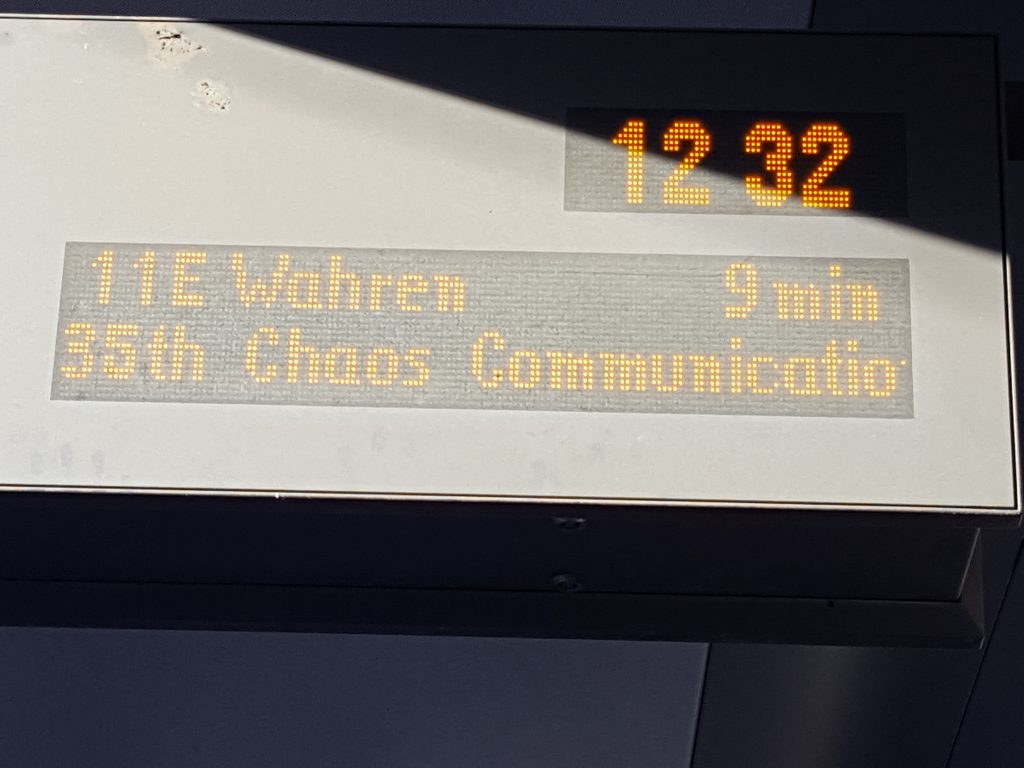 A huge difference to other similar events or conferences is that the congress is organized and only possible due to an ingenious volunteer systems (heaven/ angels). Unlike other festivals/ events/ conferences where volunteering becomes more and more a norm and a habit (often due to limited funding and finances) only few people are volunteering compared to paid speakers and artists or paying visitors, at the congress most participants pay and volunteer. In this sense it is a true DIY event which happens on a very professional level. This makes the congress also independent of state funding and sponsoring. In its clever and elaborated structure, logistics and organization the congress remains a work of art in itself.
The main structure of the congress is made up by its assemblies, these are local hacker clubs and groups who design and organize an individual space where activities like workshops, talks or presentations happen. Activities are linked to issues like technology, society, arts or to food and drink (inofficial program). This is framed by a main lineup of talks, presentations, performances (official program). This is accompanied by a kids space, an arts space and a music program. That the majority of the attendees contribute to the program or the organizational structure creates an event that is based on contribution rather than consumption and this makes the vibe of the congress so special.
This year there was a second assembly-hall opened and two new stages were established as a part of the main program, which means that the presentations are filmed and archived at media.ccc. Also a new clubbing area Discodrama was build. New was also a wine-bar at the CCL, which was great as before only beer and cocktails at selected places where at offer. The Chaos Film Society screened almost all day and night its programm. The cinema and surrounding area was again designed excellently by the Kollektiv Artes Mobiles. The Komona assembly had also many new features like its own silent radio – all.fm, where djs were playing on air and you could get headphones and take thwe musik with you. A sauna was build in the parking lot.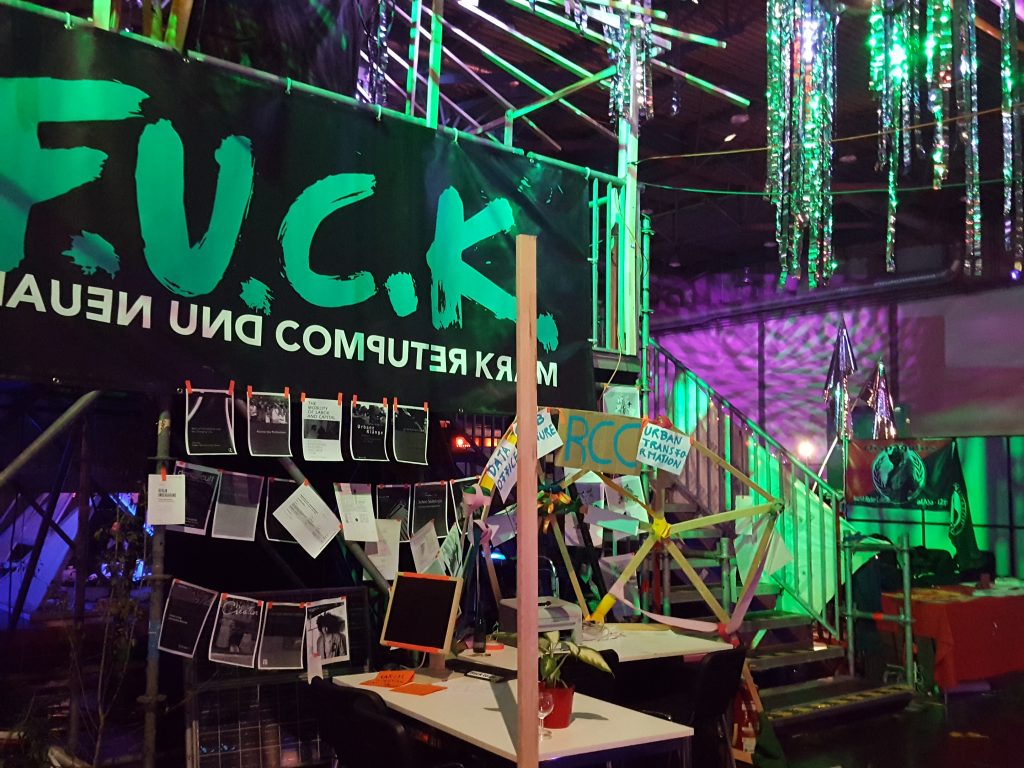 Reclaim Club Culture was again part of the new assemby Komona and offered this year once more a series of workshops where club culture was connected with critical discourse and activism (touching issues like transnational activism, funding activism, producing demo-raves, agency of collectivity). Our contribution was a workshop on "subcultures and urban transformation: data, archive, research, hacking". RCC also made it into the main programm with Rosa Rave and a talk about "protest, club culture and antifaschist resistance".
Find Rosa Rave and other video links at the end.
I hardly made it this year to any talks or workshops. Nonetheless I want to mention some highlights like the screening of "All Creatures Welcome" of filmmaker Sandra Trostel. The documentary "sketches a utopian image of society in the digital era. Accompanied by the appeal to 'use hacking as a mindset,' the viewers immerse themselves, together with the filmmaker, in a documentary adventure game and explore the world of digital communities at the events held by the Chaos Computer Club" (infotext at media ccc). This marks the official open source release of the movie which was shown the months before at some film festivals around Europe and is now available at media.ccc. Also a remix project accompanies the release where the complete footage can be remixed and alternate versions created.
The musical highlight at Discodrama was a set of the dutch producer Joeri Jungschlager (also known as the Breakcore Panda) and his project RK9 where he presents a hybrid of liquid drum & bass, crossbreed and breakcore. He is also a developer working on OpenDJ, a project that aims to build a opensource tabletop mediaplayer allowing djs to do more with their equipment than just dj. And providing a building block for smart clubs. Another heyday was the hooligan/ techno/ rave dj set of Oliotronix at Compeiler which incoroporates gameboy DMG and various electronic noise machines. She delivered an eclectic set with a compelling stage performance. Unfortunately there have still been very few female* artists playing, especially on the Discodrama main floor. Apart of that it can be concluded that the crowd at the congress is very diverse and I noticed especially an increase of queer and transgender people attending the congress.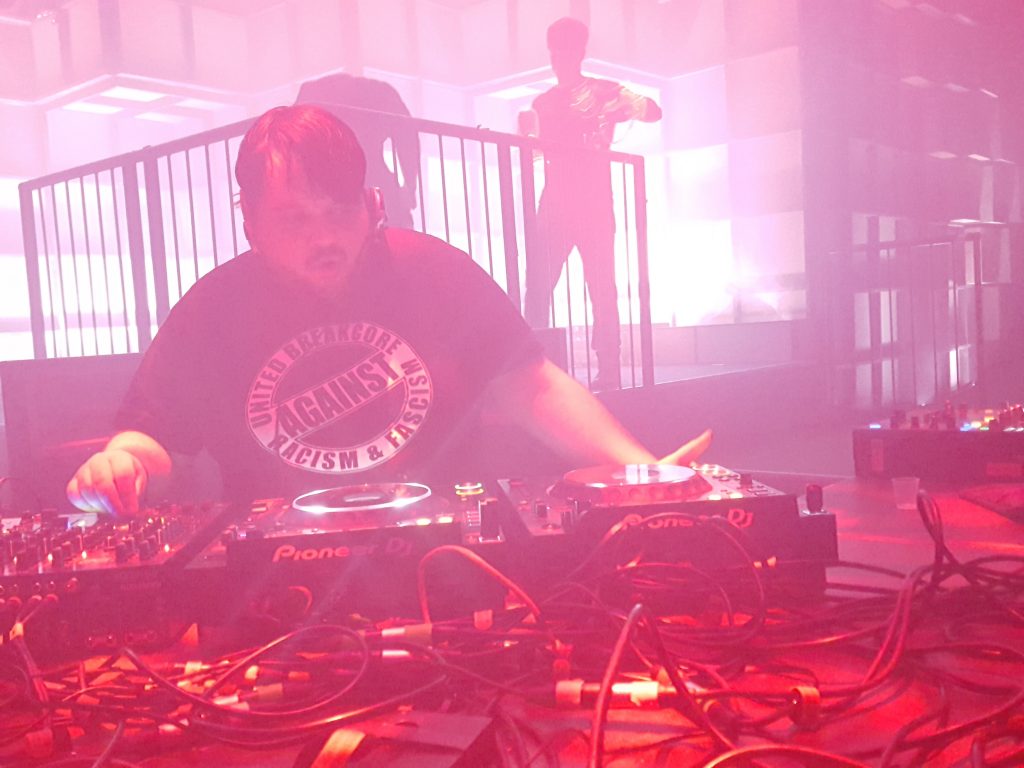 Hopefully next year I will be able to attend some of the congresses classics like the crypto party, the lockpicking workshop, a DIY electronics jewlery workshop, solder my own synth, get me a Chaospate/ mentor (someone who shows new people whats going on), attend the Haecksen happy hour, visit the diaspora* assembly, write a chaos post to the c-base assembly or enter the race track with one of the wonderful DIY vehicles.
You find a photo-essay on 35C3 @ the German version, click icon on upper right side to switch language.
Here are some recommendations for video-talks:
Opening Talk 35c3, 26min:
How Facebook tracks you on Android
(even if you don't have a Facebook account)
Jahresrückblick des CCC 2018
Refreshing Memories
All Creatures Welcome Talk
a utopian documentary about the digital age
"The" Chinese Social Credit System
Why It's Both Better and Worse Than We can Imagine
Frauen* + NIT Gruppen im Umfeld des CCC: Wo, warum und was sind unsere Projekte
35C3 Infrastructure Review
All the statistics about this event you could wish for
https://media.ccc.de/v/35c3-9576-35c3_infrastructure_review