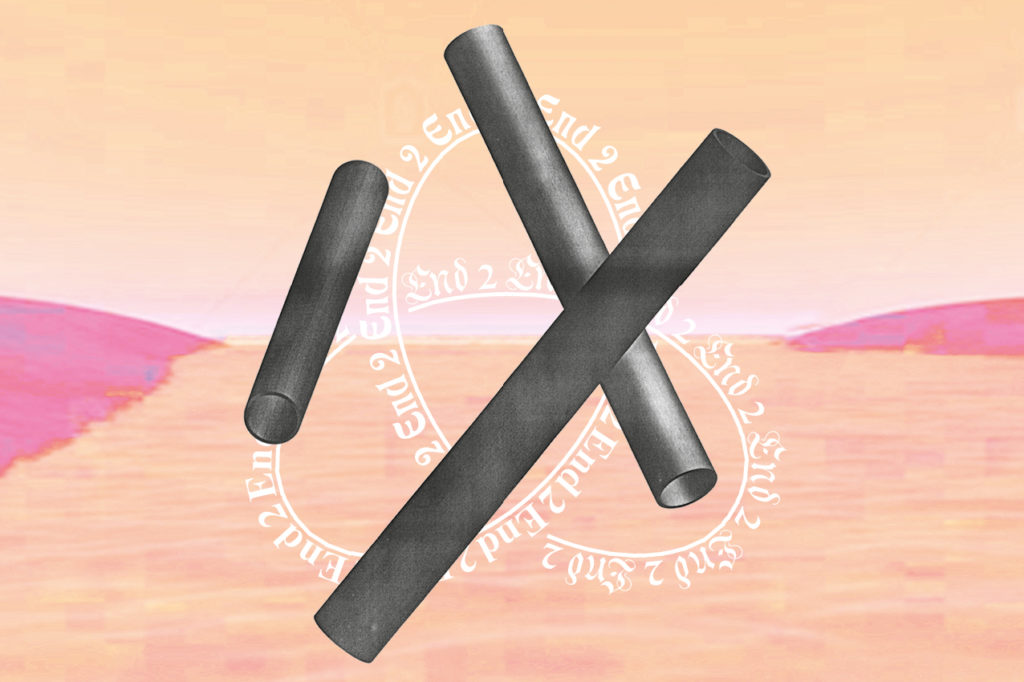 Another year went by too quick and again it is time for CTM festival and transmediale. Whereas transmediale is much older, and CTM was an attempt to strengthen the music as media art within transmediale, CTM became an independent festival and some people consider it one of the best festival for experimental music and club culture. Today CTM and transmediale share only a few events like the club/ concert night, or the press conference. Both festivals offer interesting discourse/ conference programs.
And after transmediale has finished for the day, one can experience CTM concerts and club events every night at differnet venues in Berlin. So you don't need to sleep. The transmediale seems to try a new concept, maybe because of this years topic, which is "End to End".  That makes me nostalgic as I organisated with others three end2end-festivals in hamburg, those were dedicated mostly to graffiti films and urban arts exhibitions. And I always loved the name "End2End" I came up with as it not only stands for end2end bruners (traingraffiti, whole train), but also for end2end network communication (coding, encryption). Transmediale hits at the later meaning and beyond.
Tranmediale is located for the exhibition, film programm, and opening as usual in the HKW near the parliament and is then changing to the Volxbühne for a 2 day symposium, which seems to be a new stratregy, and the symposium is already sold out. But also the film programm at HKW is sold out. It seems they started some degrowth, as it seems less tickets are being sold. Or many more people than the last years go to transmediale this year… I think the network topic is interesting and important, needed! I research about networks myself, but: no tickets :( At least that way I dont need to decide where to go, which makes ctm-transmediale always stressful… So here is their curatorial statement:
transmediale 2020 End to End reevaluates the role of networks as technological, social, and artistic infrastructure and their limits: it will outline potential futures of the network society and beyond.
"Networks are everywhere, whether personal or organizational, for social or business life, centralized or decentralized: node-based communication and information exchange has arguably become the defining technological, economic, and cultural form of globalization and the digital society. A certain network idealism permeates the globe, resulting in all forms of networks and networking practices being mainly defined through the techno-bureaucratic master form of the Internet. Already in 1967 the artists Robert Filliou and George Brecht wrote that "The Network is Everlasting". The line is taken from a pre-Internet culture poem celebrating the interconnectedness of everyday-life actions across an emerging global world.  This poetic imagining of an "eternal network" is a reminder that network cultures exist beyond the technical reality of the "actually existing" network culture as we now know it.
Inspired by this pre-Internet idea of networks, transmediale 2020 – End to End focuses on both forgotten and potential futures with and without networks. Leaving behind a decade marked by a backlash against the Internet and the network society, transmediale aims at a comprehensive re-evaluation of networks and their limits. The history of European Critical Internet Cultures that emerged in the 1990s serves as a starting point: Together with a series of other global experiments in autonomous networking they consistently provided alternatives to the technological solutionist thinking and centralized business models of Silicon Valley. By drawing on the legacies of critical and autonomous network cultures transmediale 2020 not only wants to make the limits of Internet-based networks visible but also highlight alternatives to bring about sustainable social change. Is there a conceivable counter-power to networks? Which alternative technological models and cultural narratives are needed to construct the principles of end-to-end communication anew? In the upcoming festival edition these questions will be explored through a month-long group exhibition which will present new artistic works that both refute and reform networks, and an opening week full of talks, workshops, screenings, and performances."
Also differnt this time is the curation. Naturally it should be comprised by a network itself; and the artistic director Kristoffer Gansing got support and advice from Clemens Apprich, Daphne Dragona, Geert Lovink, and Florian Wüst, all of whom are responsible for different program items.
Since the exhibition is (beside the opening) the only event left to visit if you are not holding a pass, here is the statement for the exhibition.
The Eternal Network, 28 Jan – 01 Mar 2020 HKW, Berlin
"The Eternal Network is a group exhibition about the persistence of networks, with a focus on their potentials and limits in response to current social and technological changes. The exhibition is curated by Kristoffer Gansing. The network has become an ever-present technical, social, and organizational form. In the mid-1960s, Fluxus artist Robert Filliou coined the term "The Eternal Network," referring to social interactions taking place through mail art and other emerging means of global communication. This idealistic notion of the network can be contrasted with the many limitations of networks that have become tangible today. With this shift in mind, the exhibition presents twenty recent artworks that re-engage or move beyond the role of the internet and the network imaginary in today's critical entanglements of humans, environments, and technologies.
Read the curatorial statement.
https://2020.transmediale.de
In Contrast the theme of CTM is this year "liminal". This is somehow funny as the word "liminal" has been creeping allover ctm-texts already the last decades. So one could say it comes natural. And considering recent climate change debates, one hopes that the state is liminal; and not final.
CTM always last longer than transmediale and CTM started last week on the 24th of January. Here is the curatorial statement: "Liminal phenomena and liminoid states are transitional phases in which a familiar order sees its values and symbols destabilised; norms are suspended or turned on their heads. They thrust us into the grey zone between the two sides of a supposedly clear demarcation. We find ourselves in ambiguous spaces, somewhere between a past that is no longer valid and an ever-becoming future. Liminality characterises spiritual practices and social rituals as well as aesthetic, psychedelic, and other transformative experiences. It marks technological upheaval and social, cultural, and political change. In music, boundary-disturbing experiences and acts of transgression are perpetually negotiated and re-negotiated, be it through the lifestyles and identities associated with music cultures, in practices of intoxication and of altered states closely associated with music, its transcultural hybridity and digital fluidity, or in the multisensory experience of sound itself.
Such liminal spaces are zones whose limits and scope remain unknown. The liminal is the fundamental challenging of norms and identities. At the same time it is a place of heightened sensitivity, of undirected experimentation, and of new potential communities. As such, it is a contact zone with the "other," the unconscious, and altered forms of being, which can trigger regenerative or transformative effects. In this respect, one can try to avoid them or actively seek them out and engage with them. In times of crisis, we are inevitably thrust into them. It isn't difficult to identify the liminal nature of our present time, which is challenged on almost all fronts and scales by far-reaching processes of transformation such as climate change, post-democracy, re-nationalisation, globalisation, migration, hybridisation, or digitisation. All currently pressing conflicts demand a (re)negotiation of borders and demarcations, always confirming that the old is no longer possible and the new is not yet imaginable. The well-known and familiar no longer promise stability or certainty, but the solutions for an encouraging future often remain out of sight, or are only hinted towards on the horizon.

We are in between. Amidst ambivalence and perpetual shift, we drift without assurance nor certainty. How and in what form will we emerge? What will we encounter along the way? Is there anything beyond this liminal zone? As open as liminoid experiences can appear, and as unrestricted as liminal spaces may seem, they always remain tied to the notion of boundaries. Preoccupations with the liminal inevitably are entangled with borders—with the existence, perception, transgression, invalidation, and creation of demarcations of all kinds. And they prompt urgent questions about their political utilisation and economic exploitation. The celebration of liminality, hybridisation, and transgression is not enough in and of itself. Rather, praise should be supplemented with critical evaluation of potentials, ambivalences, trajectories, and exclusions. How do such experiences and practises affect political and cultural dichotomies? When do they merely serve to reinforce known power structures and when might they actually allow for gains in cultural freedom and permeability? Can transformative potential and the emergence of new ideas arise through liminal experiences, and if so, can they resist co-optation by market forces and political agendas? Can they aid nuanced self-awareness, reveal scope for action, or enable empathetic experiences? Is it enough to practice forms of experimental politics in a liminal space that has to make do without tangible utopias?"
You can find the details about the myriad day/ night program here
CTM also has some final events and concerts on sunday 2nd of february.