The 5th edition of Heroines of Sound will feature four comissioned works, seven premieres and two German premiers by 30 artists.
With: Maryanne Amacher //  Anne la Berge// Mary Ellen Bute // Suzanne Ciani/ / Mary C //  Lucrecia Dalt // Nina Dragicevic //Jessica Ekomane //Gudrun Gut//Ensemble KNM Berlin // Electric Indigo // Fågelle&Beate Kunath // Beatriz Ferreyra // Juliana Hodkinson//Jessie Marino// Eliane Radigue// Claudia Robles-Angel //Teja Reba // Ana Maria Rodriguez//Katharina Rosenberger //Evelyn Saylor // Elisabeth Schimana// Laurie Schwartz// Paula Schopf/ StratoFyzika // Steffi Weismann // Wilde/Hülcker// Marta Zapparoli 
 The Heroines of Sound Festival has set itself the task of (re)discovering female protagonists in music and increasing the public presence of their music.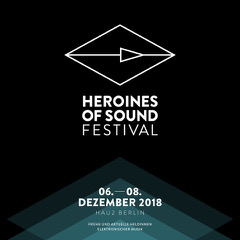 The goal of all Heroines events is to make the works of women pioneers of electronic music accessible to a wider public. Thus, audiences have the opportunity to discover connections between early heroines and women composers active today in contemporary music and electronic performance.
By making the often forgotten and underappreciated quality and diversity of female artists in the field of electronic music more visible and audible, the Heroines of Sound Festival opens up new perspectives for an analysis of historical and current strategies of female musical practice.
Reaching far beyond contemporary music circles, the Heroines of Sound Festival has attracted broad interest and brings a young audience in contact with cutting-edge musical perspectives.
With a long-term goal of strengthening the proportion of woman artists in the music branch both nationally and internationally, since 2014, together with Heroines Editions, the festival has presented over 80 woman artists from 20 different countries, including events in Aarhus, Den Haag and Istanbul.
Heroines of Sound aims for sustainability. Beyond the ongoing festival activity, the format is networked with a wide array of players and active in initiating events and discussions. Going beyond the standard festival circuit, the festival is linked with many partners, establishing new events and sparking debate.
Since 2014 Heroines of Sound collaborated with the internationally active network/portal female:pressure, Ableton Loop (Berlin),the University of the Arts Graz (AT), the IMA Institute for Media Archeology (AT), Freiburg Music Academy (DE), Academy for Music and Theatre Leipzig (DE), Borusan Music House (TR), GMEM Marseille (FR), TodayArt Festival (NL). In 2015 the Festival was awarded a two-year supporting grant from the Berlin Senate.
More Infos: