Whatever You Thought, Think Again
3hd Festival is in its third year, and organisers Daniela Seitz and Anja Weigl of Creamcake are pleased to announce the event will be running from November 22 to November 25. Happening at HAU Hebbel am Ufer, and OHM, as well as the internet — the program looks at music, performance, and contemporary art to ask deeper questions about politics, community, economic uncertainty, and communication.
This year 3hd explores the viability of acting outside of the status quo with its theme "Whatever You Thought, Think Again." Performances, panels and workshops will travel the gamut of experience and struggle — personal stories of overcoming adversity around visibility, feminism, empowerment and community — in order to be seen and heard. The emancipatory promise of art, the internet and globalization appears to have failed us in the face of rising xenophobic populism in a backdrop of looming economic, political and ecological disaster.
Participants include:
Abyss X, AMET, Anja Kaiser, Anna Willert, City, Cleo Kempe Towers Queen, Colin Self, Farai, Fauna, Flora Yin-Wong, Green Music, i.ruuu, Jenna Sutela, Johanna Odersky, Lyra, M.E.S.H, Magdalena Bichler, Maria Skoula, Marta Forsberg, Neo Hülcker, Petit Singe, Prince Harvey, Robin Buckley, Rui Ho, Stellan Veloce, Stud1nt, Tabita Rezaire, and UCC Harlo.
Running over four days, 3hd will interrogate the aforementioned notions in a series of installations, concerts, performances, panels, workshops, online commissions, and a survey examining music, art and society where, for the first time, it intersects with science. The festival will reflect on its own struggle to stay alive and independent in an increasingly corporatized and conformist alternative music scene, kicking off with a panel called "Craving Sustainability". At the same time the festival will circulate the "Tell Us How You Really Feel" survey, in cooperation with physician and prospective psychiatrist Anna Willert, examining the 3hd audience's media and technology engagement, economic status, personal attitudes, and mental well-being.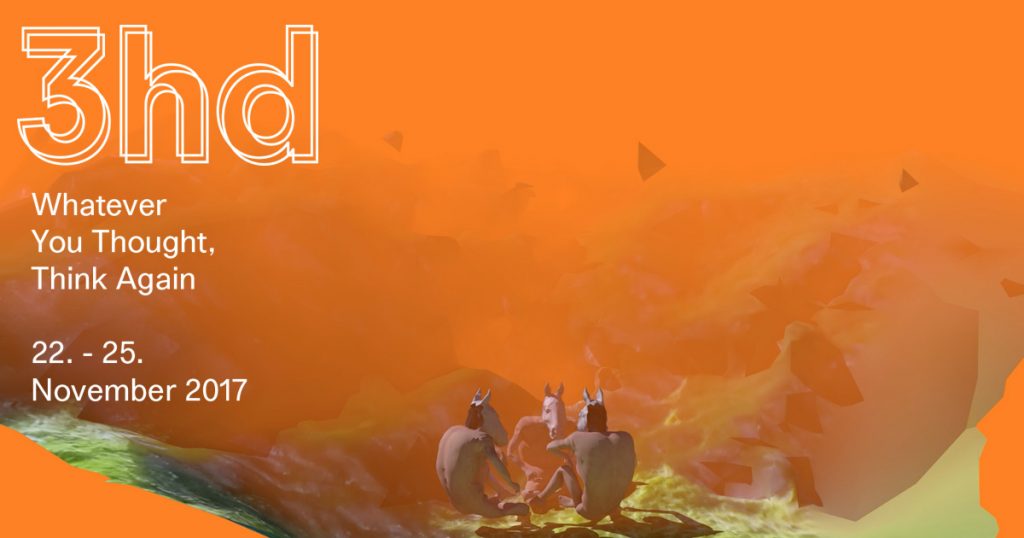 Berlin-based performer Colin Self will present a non-utilitarian vocal workshop focused on alternative modalities of group singing, while sound artist, musician and educator AMET's performance, called "Addis'63," follows themes of music, identity and spirituality. Indian-born, Italy-based DJ and producer Petit Singe combines the residue of an eastern heritage with an old school Adriatic house sensibility to present spaced-out romanticism and deep bass. There'll also be performances by Crete-born multi-disciplinary artist and SHXME label-founder Abyss X; London-based poet, musician and NON Worldwide associate Farai with collaborator TØNE; feeling, empathy, and listening from Berlin-based singer, composer, and performance artist Lyra, and more. Running alongside the four-day festival program is the "Whatever You Thought, Think Again" exhibition, including contributions by Tabita Rezaire, Anja Kaiser, Cleo Kempe Towers, Jenna Sutela, M.E.S.H., and others.
In giving a voice to art and music as new and radical strategies/environments, 3hd 2017 proposes an anecdote to an international crisis point, where establishing autonomy, ownership, and independence for Creamcake and its network is key to securing a better future for their community in Berlin, and the world.
Note: Only at HAU a limited number of discount tickets is available for students, young people doing voluntary civil service, welfare recipients, recipients of unemployment services I/II, disabled persons with identification, work trainees, and those receiving assistance in the context of asylum. An identification card must be presented in person in order to qualify for the discount
More information, programme & videos: