I will participate in a discussion with Merle Vorwald of 3ncore and Federico Chiari on gabber/ speedcore – genres & subcultures in Antwerp, Belgium. Here are some Infos about the project Is It Dark?
"Finally the collectives ENCORE + SEXES are presenting the outcome of their residency at AIR Antwerpen. After looking extensively into the digital and real life traces of the speedcore legend Liza'n'Eliaz, the collectives produced art works during their stay in Antwerpen. The works and the digital research – the EE (ENCORE EXPLORER)- can be seen at the exhibition space September 27th -30th in Het Bos.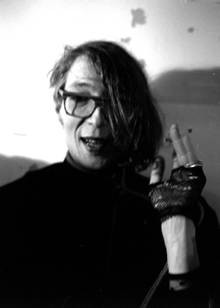 To include all aspects of fascination for Liza, the 4 day show starts with a line-up that resonates Liza (DJ HVAD, laserpoodle, orphan fairytale, GTUK, Hiele, E-dipo The Motherfucker), continues with a panel talk on the 28th about Liza's biography + the impact of speedcore and will end with an experimental theatre play based on Liza's biography. "
ISITDARK? dates:

Speed Core Jour Fixes (SCJF) 
at AIR (Antwerpen)
(ENCORE + SEXES)
8, 15, 22, 29 August 2018, 17 – 21 h

DARKITITS? 
at WaldburgerWouters (Bruxelles)
(ENCORE + SEXES)
September 6 – October 27
preview September 6 from 11am

ISITDARK? final show 
at het bos (Antwerpen)
(ENCORE + SEXES)
27th-30th September
27th Opening (16pm) Party (22pm) w/ DJ HVAD + LASER POODLE + HIELE + ORPHAN FAIRYTALE
DJ Hvad
Laser Poodle
Orphan Fairytale
Hiele
Gtuk
E-dipo The Motherfucker
+ more
28th of september Exhibition (12h) and panel talks (16pm):
After the talk series SCJF (speedcore jour fixes) at AIR Antwerpen that looked into different aspects of the project, the panel will conclude on the development of the last 3 month.
After a short introduction to the ENCORE EXPLORER by ENCORE members Tea Palmelund + Merle Vorwald, the first block is a conversation with Pieter Kuyl (Stockhousen/ influencer) about Liza's biography and the impact + legacy the early 90's techno scene (in Antwerpen).
The second block will look deeper into the sonic potentials and the subcultural context of gabber plus it's subgenre speedcore and Lizas position within the scene. The talk is held by Bianca Ludewig (urban anthropologist + popmusic researcher, University of Vienna) and Federico Chiari (journalist + hardcore techno expert, Milano). The talks are  moderated by Merle Vorwald.