Elevate Festival – Music, Art and Political Discourse
Elevate is an annual interdisciplinary festival held in various central venues around the Schlossberg in Graz, Austria. With its unique combination of critical political discourse and contemporary music and art, the Elevate Festival stands out of the "usual" festival circus. Amongst the guests are Human rights experts, climate researchers and activists from all over the world, who gather in Graz once a year with musicans and artists, illuminating pertinent issues of our future. This year the music lineup features Jimi Tenor, DJ Koze, Rashad Becker, Ben Frost, Errorsmith, Steffi, Mia Zabelka and many more.
Elevate 2018 Theme: RISK/COURAGE
We make decisions by weighing up the risks involved.
Risk-taking is part of the nature of man. Judicious risk-taking gives us an evolutionary advantage and the better we are able to evaluate risk, the more likely we are to survive and thrive. Risky actions presuppose a free will, the open possibility we have to decide between different actions. Morally highly rated actions that are particularly risky are considered courageous (from the French "le coeur", "the heart"). But people can also take selfish risky actions, coolly calculated to serve their own advantage. When is the willingness to take risks part of a bold plan, a bigger idea? And vice versa: When does a particularly courageous idea run the risk of crusting into ideology, of seducing and ultimately endangering people?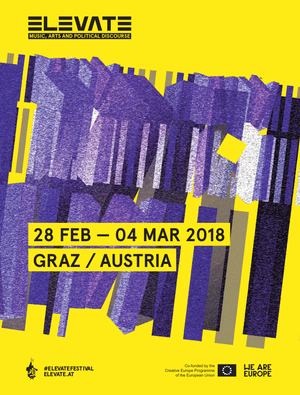 Civil rights, peace treaties, minimum wages, women's suffrage, freedom of expression – the achievements of modernity are seen as the results of courageous struggles that have advanced our society. And indeed, in many parts of the world today there is a considerable amount of peace, security and stability.
It becomes more difficult when adequate responses to current problems such as the climate crisis and social inequality are lacking, when the dangers of the financial market or authoritarian power structures exceed the individual's ability to act. Then humanity risks too little and often, in the process, risks itself. Is there a lack of risk-taking and courage to make necessary course corrections? Or simply a lack of clarity in the face of an overwhelming complexity of current troubles?
But there is movement. Indigenous environmentalists form worldwide alliances. Artists and Whistleblowers often risk their careers to highlight grievances. Civil disobedience and non-violent resistance again become the leitmotif for those citizens who get involved. Some activists even risk their lives to fight for their cause.
This is exactly where the upcoming Elevate Festival comes in: We want to focus on the concepts of risk and courage, look at concrete examples and discuss the pros and cons. What risk are we personally willing to accept for our beliefs? What courageous ideas do we consider important and where do we see the most urgent need for action? What strategies and methods do activists and artists from around the world use to assess the risks of their actions? And when does the end no longer justify all means?
This year, for the first time, a media artist is visiting the Elevate Festival as an "artist-in-residence".  Andy King will be developing multi-media photo portraits of whistleblowers. Also besides, various projects will be presented in the arts portion of the festival. 
Video art, multimedia art and text-based performances were part of Elevate right from the start. With the new festival date in spring, we have increasingly devoted ourselves to exhibition formats for fine arts and art in public space. Also in 2018 there will be large-scale works that can be visited during the entire festival. Andy King's series of portraits will be on display in the Schlossberg-Stollen. US-artist Adam Harvey is producing a work titled "Machine Learning City" about artificial intelligence and machine vision in urban space – to be seen in the esc medien kunst labor. In cooperation with the Diagonale and Soundframe, the Viennese artist duo DEPART is showing an impressive virtual reality installation and in the Lendhotel the Belgian group LAb[au] is building an installation called "OrigamiRhombi". It can be seen onwards from the 4th of march as part of the extensive art collection of the Marko Hotels.
More info: