Hopefully this Hacker Meeting is already known internationally. It is organized by the Chaos Computer Club which was founded in 1981. The annual congress was launched in 1984. In the past 7 years this Hacker Meeting has grown rapidly to host in 2017 15.000 attendees in the Leipzig congress centre.
In the frame of Reclaim Club Culture Lukas Fakegruber of the Shituationist Institute and myself had a public conversation and discussion about the heritage of rave culture at the new assembly space 1Komona. "Komona is a new word to name things that have no equivalent in our old languages. Its in between and beyond the meaning of => communication, many to many, fellowship. With Komona travellers and activists gather here to share methods on self-empowerment & collaboration, social hacking, communication guerilla, creative action, rave & situation. Its about the power of solidarity and collaboration beyond time and space to face upcoming challenges and overcome supression and the whole old force. We reckon this chaos competence centre as a shared space for knowledgedrafting and blueprinting, 1 homezone, physical and social structure and a growing network. Connect to create and expand a culture that's capable of putting up a fight and gives its inhabitants a sense of purpose, selfworth, usefulness, care. + chaosmagic." We embrass CCC and understand it also as an encouragement towards Critical Club Culture.
We wanted to hack directly into the hedonist origin of RCC, who are a bunch of club and event organizers from Berlin who are connected to other alternative or uncommercial club spaces in Bremen, Hamburg, Nürnberg or Potsdam. The loose network set out to rethink club culture as a growing community of organizers. RCC was formed at the International Hedonist gathering in 2016.
We were asking if hedonism can be political at all? And in which way is hedonism connected to the present state of capitalism? What about colonization, gentrification, eventization and commodification in the context of clubculture?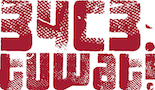 And should club culture be part of academia and if yes in what way? What kind of knowledge is produced through club culture? Do those practices mount up to a culture or is it just another entrpreneurial scene? What neoliberal practices are part of club culture? What experiences of communality are enabled by rave culture? Can sounds be radical? Is there something like an audio-social being? What needs to be done?
We collaged for you a fanzine-reader which features excerpts of text we find inspiring for a reflection on club culture: http://menschmeier.berlin/soundradikalitaet_und_clubkommunalitaet.pdf
The shituationist institute may be consulted here: https://si-blog.net/
We also recorded our improvised presentation and the discussion, it can be found here:
There is an amazing video documentation of the main programm (also with subtitle-translations I believe):
Here is a selection for those who are overwhelmed by the quantity:
https://media.ccc.de/v/34c3-9292-eroffnung_tuwat
media.ccc.de/v/34c3-9031-mietshausersyndikat_den_immobilienmarkt_hacken
media.ccc.de/v/34c3-9119-ein_festival_der_demokratie
media.ccc.de/v/34c3-8896-tiger_drucker_und_ein_mahnmal
media.ccc.de/v/34c3-8969-die_sprache_der_uberwacher
media.ccc.de/v/34c3-9276-forensic_architecture
media.ccc.de/v/34c3-9275-afro_tech
media.ccc.de/v/34c3-9297-the_snowden_refugees_under_surveillance_in_hong_kong
media.ccc.de/v/34c3-9290-visceral_systems
media.ccc.de/v/34c3-9296-why_do_we_anthropomorphize_computers
media.ccc.de/v/34c3-9027-the_work_of_art_in_the_age_of_digital_assassination
media.ccc.de/v/34c3-9106-pointing_fingers_at_the_media
media.ccc.de/v/34c3-9055-science_is_broken
media.ccc.de/v/34c3-9262-jahresruckblick_des_ccc_2017
media.ccc.de/v/34c3-9293-abschluss
Das gesamte Archiv des 34c3 findet sich hier:
We are looking forward to the further outcome of 34c3. And the future of the congress and it's community.