I will do a videoinput about the history and aethetics of Hardcore Techno at/for  The Balance Club / Culture Festival on friday.
Here you can access the festival content: balance.ifz.me/webedition2020/
The festival would have taken place in various clubs, concert venues and off-locations in Leipzig from 20⁠–24 May. With over 30 acts and as many individual events, the interdisciplinary festival would have been a place for collective joy and reflection. It would have provided a space for encounters, creating new connections and strengthening existing local networks.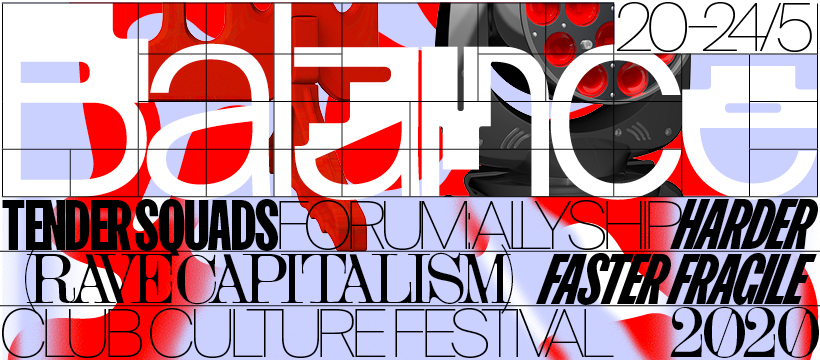 And how the days and nights would have lived up to the promise! We would have let ourselves drift through the programme of several days and its variety of formats. We would have started the day eagerly in the festival centre to explore the art and discourse programme. After the lectures we would have continued discussing with our friends over a beer or a soft drink. The workshops would have invited us to courageously try out things that would have been new to us and artists and their work would leave us with thought-provoking impulses. All dressed up and full of anticipation and excitement, we would afterwards have continued into the club night. We would have danced together in the club and discovered acts that we would not have known before. We might have met interesting people after the event or in the club and maybe even made out a bit. After three hot club nights in the IfZ with live acts and international DJs, we would have made it to the final event in Pracht, exhausted but happy. There, the music would have been a bit too experimental for some of us for a Sunday afternoon. But after a short while we would have felt ourselves drawn to the sound and realised this is probably the best way to spend a Sunday. In the week after the festival, we would have missed it a bit, it would have felt a little like being lovesick. Some of us would have been able to take the time to recover from our hangover, others would have gone right back to their daily routine. A few months later we would have found a flyer, a photo on our phones or a festival bracelet while tidying up our desk and have been remembered of those mild early summer nights …
     We could not have imagined before how this year's festival theme "TENDER SQUADS" has gained all the more urgency in the light of the COVID-19 crisis. The question of necessary alliances in the current late capitalist dystopia became essential for us, the artists involved and the venues we cooperate with.
The Balance Festival is a community event. "TENDER SQUADS" therefore also means that we had to find a solution to secure our cultural funding and continue to pay the participating artists, theorists and yes, us. And even if the experience in the club is not to be replicated and your beloved internet becomes exhausting, also our festival will be launched as a web version.
From 20⁠–24 May, our website will feature DJ sets, lectures, multimedia texts, workshops, artist talks, audio-visual works and artistic fashion-pieces. As a grand finale, we will release our Balance-Sampler "Various Artists – Tender Squads" on festival Sunday and, admittedly, fulfill our own long standing wish. The Balance Club / Culture Festival sees itself as an interface between club culture and social critique. All contributions of the festival "TENDER SQUADS" address the question which constellations and alliances can be imagined for the emancipatory potential of a different world to unfold? Which alliances do we want to form and where do we have to insist on difference for our alternatives to be viable? What form of (feminist) care and support do we need for each other right now? Together with you we want to find out, more urgently than ever, how we can maximally destabilize structural inequalities.
     Also on the seemingly boundless web, Balance remains a platform for critical discourse and artistic diversity. The web version of the festival forms a digital bridge between us all, without social distancing. During the festival, we are pleased to hear your feedback and critical voices and look forward to the discussions.
The festival programme remains divided into the theme days "RAVE CAPITALISM", "HARDER, FASTER, FRAGILE" and "FORUM ALLYSHIP".
     Bridge the distance, form a squad, stay in solidarity, leave no one behind!
Your Balance Crew
For more details see the German blogentry.
The online festival is free of charge. If you want to support us, you can do so by buying a solidarity ticket via Resident Advisor.